Gofundme is a popular crowdfunding platform that has helped millions of people raise money for a wide range of personal causes and emergencies. From medical expenses and education costs to travel and creative projects, Gofundme has become a go-to resource for individuals seeking financial support.
Whether you're looking to raise money for a personal cause or simply want to learn more about crowdfunding, this article will do a comprehensive Gofundme review and everything you need to know about it.
Founded in 2010, Gofundme has grown to become one of the largest crowdfunding platforms in the world. It has helped raise billions of dollars for campaigns in over 20 countries and has a reputation for being user-friendly and easy to use.
But while Gofundme can be an incredibly powerful tool for raising money, it's crucial to understand how it works and the potential risks and drawbacks. In this article, we'll explore how it operates, what people think about the organization, their rates, fees, and complaints. We'll also discuss the potential risks and drawbacks of using Gofundme and offer tips for those considering starting a campaign.
What is GoFundMe?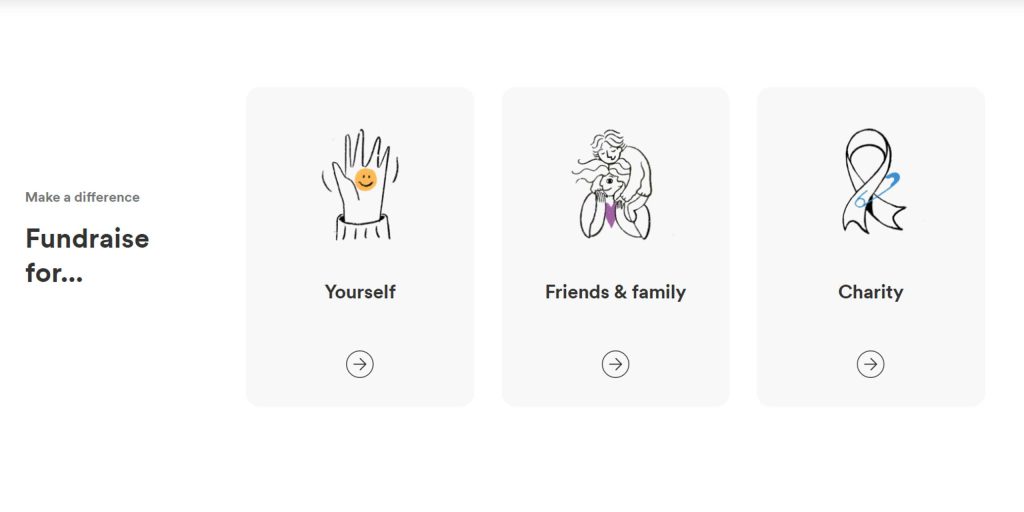 GoFundMe is a charitable crowdfunding platform that has helped millions of people raise funds for a wide range of personal causes, including medical expenses, education costs, and emergencies. However, you may be surprised to learn that GoFundMe may also be used to generate funds for companies.
One of the critical advantages of GoFundMe is that it does not charge a platform fee, unlike many other crowdfunding platforms like Kickstarter or Patreon. This means that you can keep more of the money you raise, as it is not being deducted for platform fees. However, it is important to note that there are still fees associated with using GoFundMe, as a small percentage (usually around 3%) of what you raise will go toward the payment processor.
GoFundMe review based on categories and campaigns
GoFundMe is a platform that allows users to raise money from family, friends, and other supporters through crowdfunding campaigns.
There are many categories that users can choose from when setting up their campaign, including medical emergencies, memorials, crises, education, businesses, animals, and more. While the majority of campaigns on GoFundMe tend to be need-based, companies and entrepreneurs can also use the platform to raise funds.
Successful business campaigns on GoFundMe have included everything from a restaurant looking to get out of debt to a veteran raising money to start a motorcycle repair store. It is helpful to have a compelling story to tell when using GoFundMe for business crowdfunding.
There are two main types of campaigns available on GoFundMe: standard GoFundMe campaigns and GoFundMe Charity campaigns.
Standard GoFundMe campaigns – are intended for individuals seeking to raise money for personal causes such as medical expenses, education costs, and emergencies. These campaigns are easy to set up and allow users to share their stories and request support from their community.
GoFundMe Charity campaigns, on the other hand, are specifically designed for charitable organizations. These campaigns are an excellent way for non-profits to raise money for their causes, as they offer a variety of features that are tailored to the needs of charities. These features include the ability to receive tax-deductible donations, customizable donation pages, and the option to accept recurring donations.
GoFundMe review based on Terms And Fees
GoFundMe allows users to set a funding goal for their crowdfunding campaign, but there is no time limit on how long the campaign can run. This means that users can continue to raise money continuously, even after they've reached their funding goal. Additionally, there is no limit on the amount that can be raised through a GoFundMe campaign.
One of the benefits of using GoFundMe is that donors are not charged any additional fees beyond the payment processing fee (2.9% Plus $0.30 for each transaction). Unlike some other crowdfunding companies, GoFundMe does not charge a platform fee. Instead, it provides a "tipping" option on all pages, which allows donors to voluntarily contribute an additional amount to the campaign. However, it is important to note that these tips are entirely voluntary, and donors are not required to pay them to contribute to the campaign.
GoFundMe review based on Customer Support
GoFundMe does not provide a phone number for customer support, but it does offer a contact form on its website for users to communicate with them. The company promises to respond to inquiries within five minutes, which is a faster response time than the majority of its competitors. However, there is no live chat option available on the GoFundMe website.
In addition to the contact form, GoFundMe provides a support website with answers to some fundamental inquiries regarding the service. Users can find additional information on the terms page of the GoFundMe website.
GoFundMe review based on Reviews and Complaints
There have been numerous complaints from users of GoFundMe about various issues with the platform. For example, some users have reported needing help collecting funds raised through their campaigns, with GoFundMe repeatedly requesting more information and providing inadequate customer service. Others have experienced problems with WePay, GoFundMe's payment processor.
Another concern for some users is the requirement to provide their whole SSN to withdraw funds from GoFundMe, which has raised privacy concerns given the prevalence of data breaches. Additionally, some campaigners have found that their GoFundMe campaigns have jeopardized their eligibility for SSI benefits, although this is not necessarily a problem with GoFundMe itself.
It is crucial for users to be aware of these potential risks and drawbacks when using GoFundMe, and to carefully research the platform before starting a campaign.
While GoFundMe has garnered some criticism, the platform has also gotten appreciation from critics and users. A PCMag review, for example, lauded GoFundMe's policy of enabling individuals to retain what they collect whether they accomplish their funding goal, in addition to the platform's usability and social network integration.
Furthermore, many users have had great experiences with GoFundMe, calling it a valuable resource for raising funds for personal causes.
Can You Became a Victim of a Gofundme Scam?
Unfortunately, there have been instances of GoFundMe scams in which individuals or groups create fake campaigns or hijack existing campaigns to divert funds to their accounts.
One example of this is the infamous GoFundMe campaign from 2018, in which a couple claimed to be raising funds for a homeless veteran but instead used the funds for luxury items and gambling. In this case, all three individuals involved pleaded guilty to all charges, and the company refunded the money to donors.
It is essential to be cautious when donating to GoFundMe campaigns and to thoroughly research the campaign and the individuals involved before making a contribution. GoFundMe does have measures in place to protect against fraud and misuse, but it is still possible for scams to occur. By being vigilant and taking steps to verify the legitimacy of a campaign, you can help ensure that your donations are going to a worthy cause.
Conclusion
In conclusion, GoFundMe is a widely-used crowdfunding platform that has helped millions of people and businesses raise money for various personal and charitable causes. Its user-friendly platform and lack of platform fees make it a popular choice for many, and it has a reputation for being responsive to customer inquiries and complaints.
However, there have been instances of GoFundMe scams and issues with collecting funds. It is crucial for users to be aware of these risks and to take steps to verify the legitimacy of a campaign before donating.
Overall, GoFundMe can be a valuable tool for raising funds, but it is essential to consider the potential risks and drawbacks before starting a campaign.