Are you looking for the top POS systems for retail for 2023? We examined the leading POS systems in this post. Continue reading to find out which one is ideal for you.
As businesses continue to evolve in the 21st century, many are seeking ways to modernize and streamline their operations through the use of technology, including point-of-sale (POS) software. This type of software is gaining popularity, with the global market for POS software expected to reach $70.75 billion by 2029. With the increasing competition in the retail industry, it is crucial for businesses to have a POS system that goes beyond just processing payments and offers a range of features to improve efficiency and customer satisfaction.
When selecting a POS system for your business, it is critical to explore the numerous options offered. Strong inventory control, integrated marketing tools, management of customer relationships, and staff performance monitoring are crucial aspects to look for. These features can help you manage your business more effectively and provide valuable insights into areas of your business that may need improvement.
The best retail POS systems offer a wide range of these features in an affordable, easy-to-use package. With a user-friendly interface and a range of customization options, the right POS system can help you streamline your operations and improve the customer experience. Whether you're a small independent retailer or a large multinational corporation, a high-quality POS system can help you manage your business more effectively and stay competitive in today's market.
How We Made The List Of Top POS Systems For Retail for 2023?
When selecting the top POS systems for our list, we took into account several factors to ensure that the systems we recommended were affordable, reliable, and easy to use.
We also examined each system's features, such as inventory control tools, online marketplace and multichannel sales options, customer and personnel management features, payment processing alternatives, reporting, and accounting methods, customer service availability and quality, and third-party connectors.
To ensure that our recommended systems are suitable for businesses of all sizes, we included systems with multiple hardware options and various pricing plans that allow the software to grow with your business.
All of the systems on our list are also cloud-based, providing a convenient and flexible solution for managing your business. Whether you're a small independent retailer or a large multinational corporation, one of the systems on our list is sure to meet your needs.
These are some of the features we've evaluated during our research on the top pos systems for retail for 2023:
Reporting and analytics:
This tool delivers crucial data insights and allows you to thoroughly evaluate sales data, with choices for filtering data for more specialized analysis.
Affordability:
There are several restaurant POS pricing models. Many systems require a monthly subscription to use the software, with certain add-ons costing extra. Many POS systems for retail contain expensive hardware in addition to software.
However, using your own hardware instead of the system may increase payment processing rates. It's important to carefully consider the overall cost of a POS system, including both software and hardware, to determine the best option for your business.
Client management:
This function assists you in retaining key customers by allowing you to create and maintain customer profiles, track important contact information and purchase histories, and deliver personalized marketing and promotions.
Employee management:
This feature optimizes scheduling, tracks commissions (when applicable), and provides employee logins to enable clocking in/out for shifts.
Company Reputation
We thoroughly investigated the company's reputation to assure your safety and a pleasant experience. We give preference to firms that have not engaged in fraud or deception.
We also looked at customer reviews to ensure the company's dependability. If the majority of consumers preferred a brand across several platforms, we chose it above others.
Payment processing:
This feature allows you to accept payments from multiple modes such as credit card, debit card, e-wallet, and cash, providing a convenient and efficient way to process transactions.
Top POS Systems For Retail for 2023
LightSpeed Retail – best for inventory management
Square for Retail – best free pos system
Shopify POS – best for seamless commerce
Vend – best for in-store sales
Revel Systems – best in reporting features
LightSpeed Retail – Best for Inventory Management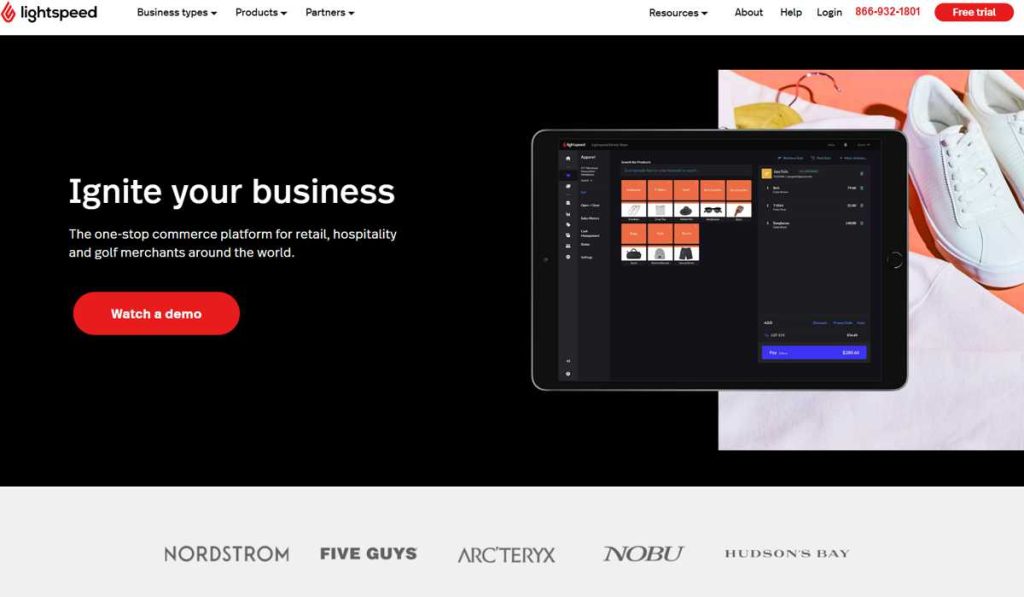 Lightspeed Retail is a powerful POS system that offers a range of features specifically designed for retailers, including over 40 sales and inventory statistics, analytics tools, and detailed inventory management capabilities. This provider also has advanced e-commerce and loyalty features that can be added to the base system.
In addition to its impressive inventory and analytics tools, Lightspeed Retail is particularly well-suited for specialty stores such as bike shops or jewelers, thanks to its unique native features for processing custom and work orders. If you're looking for a sophisticated and feature-rich POS system for your retail business, Lightspeed Retail is definitely worth considering.
Features:
Inventory management: Lightspeed POS for retail offers robust inventory management tools, including the ability to manage custom orders from customers, bundle items for gift baskets, and anticipate inventory needs through forecasting. This feature, along with the ability to predict shopping trends, sets Lightspeed apart from its competitors.
Supplier market: The system comes with a directory of over 8 million products, allowing you to make, manage, and place purchase orders within the system and easily import accurate product information. You can also view updates on orders in real time.
Customer management: Lightspeed POS enables you to establish customer profiles, monitor transactions, give VIP status, handle promo codes, and distribute and redeem gift cards. The system also offers an automated loyalty program as part of the Standard and Advanced plans.
Reporting and analytics: The system includes over 40 built-in reports on inventories, revenue, staff performance, and more, all in one analytics dashboard. What sets Lightspeed apart is its ability to translate data into actionable business tips. For example, it can use sales and traffic data to create staffing and inventory reports to help you prepare for peak hours.
E-commerce and omnichannel tools: The system integrates easily with the POS software, giving mobile-responsive and configurable web store templates for stock control, category pages, shipment, refunds and exchanges, advertising, and reporting. The system supports many languages, currencies, worldwide shipping, social media integration, SEO tools, and newsletters and notifications to increase traffic.
Pros:
Comprehensive inventory management
Innovative retail features
Integrated eCommerce
Cons:
Advanced features are not free.
API access is charged separately.
Square for Retail – Best Free POS System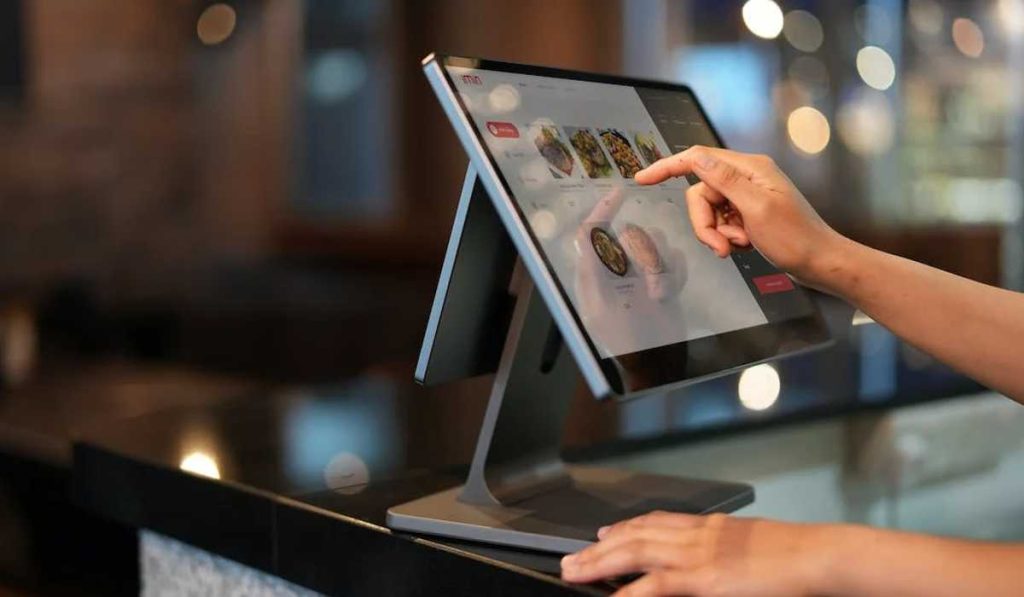 Square POS for retail Retail is a highly regarded point-of-sale system that is well-suited for small businesses of all types. It offers a range of pricing plans, including a free starter plan, a Plus plan with additional features, and a Premium plan that provides access to practically all of its ecosystem's goods. The system is cloud-based and can be used on iPads or Square Register, and it is known for its ease of use.
Built-in payments, a free online shop for online shopping and curbside delivery, online receipts, user feedback, and client data with marketing data are all included in all plans.
Features:
Checkout tools: The checkout tools offered by this POS system include a user interface based on barcodes, which allows for advanced product searches, the ability to save carts for later, and the processing of returns and exchanges. Online orders are automatically added to the registers in the POS system, and there are options for making payments using mobile devices, contactless payment methods, QR codes, gift vouchers, and internet payments.
Employee management: Square for Retail Plus provides extensive features for employee management, such as the ability to schedule and switch shifts, create custom authorization settings, maintain activity logs, and access comprehensive reporting capabilities. These features are intended to assist organizations in streamlining their processes and increasing efficiency.
Inventory management: In order to effectively manage a business's inventory, it is necessary to have a system in place that allows for tracking and control of product variations, setting up alerts for low stock levels, generating and printing barcodes, receiving large quantities of stock through the app, creating and tracking purchase orders as they are received, managing supplier relationships, and accurately tracking stock counts and the cost of goods sold.
CRM tools: Generate customer profiles depending on payment type, automatically establish and categorize groups of customers, add customer details, and deliver digital receipts with review questionnaires.
Omnichannel tools: Each account has a free online shop, Instagram selling capabilities, a creative website builder, automated inventory sync, and omnichannel features such as in-store pickup.
Pros:
Options for free online selling
Free plan
Text message marketing is built in.
Cons:
Shopify POS – Best for Seamless E-commerce
Shopify is a versatile platform that allows retailers to sell their products in a variety of ways, including in physical stores, online, on individual seller platforms like Etsy or Amazon, and through social media. It offers a range of features for point-of-sale transactions and allows customers to purchase and receive items through various methods.
If additional functionality is needed, businesses can also access a wide range of free or paid apps through the Shopify app store to customize their POS system for retail setup.
What distinguishes this service is its robust, full omnichannel selling capabilities, which make it a fantastic alternative for businesses looking to increase online sales or promote curbside pickup—a need for shops today.
Features:
Split tenders: Shopify allows you to process transactions with multiple payment methods in a single transaction, which can be helpful for retailers who accept a variety of payment types.
Custom payment methods: Shopify enables you to accept custom payment methods like personal checks, or IOUs, which can be helpful for retailers who want to offer more payment options to their customers.
Partial payments and deposits: Shopify allows you to process partial payments and deposits, which can be useful for retailers who want to offer payment plans or layaway options to their customers.
Refunds and store credit: Shopify enables you to issue refunds and store credit to your customers, which can be useful for retailers who want to offer more flexible return policies.
Social media selling: Shopify allows you to sell your products on various social media platforms, including Facebook, Instagram, TikTok, and Twitter, which can help increase your online presence and reach more potential customers.
Order online, pick it up in-store: Shopify allows you to offer the option for customers to buy products online and pick them up in-store, which can be a convenient option for customers who want to save on shipping costs.
Pros:
Solid retail-focused characteristics
A large app shop for add-ons
Option for scalable POS
eCommerce that is integrated
Cons:
Transaction costs are possible.
Some features are not free.
There is no offline payment processing.
Vend – Best for In-Store Sales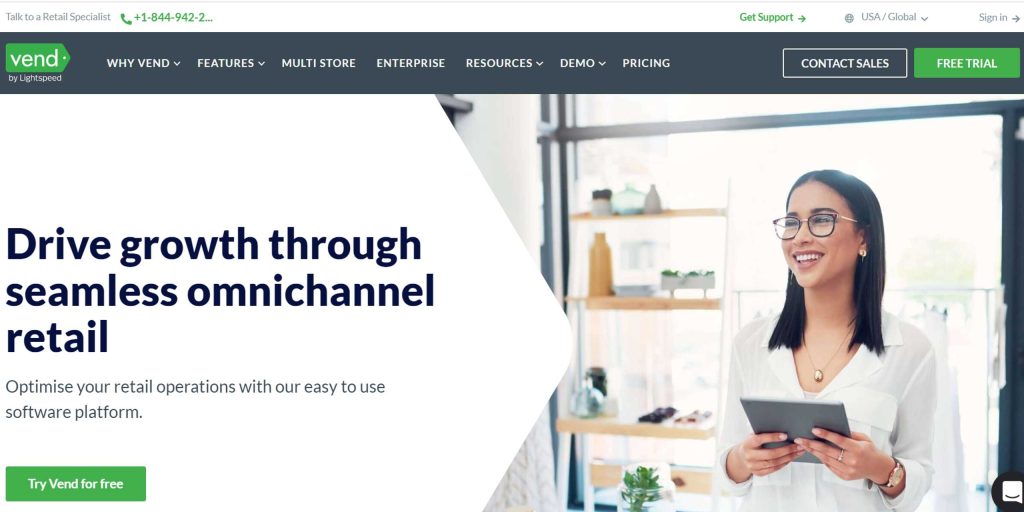 Vend is a popular point-of-sale system explicitly designed for retailers who are primarily focused on in-store sales. It features an intuitive interface and offers a variety of inventory management tools and a loyalty program.
Additionally, all of Vend's monthly plans include API access, which allows users to seamlessly integrate their in-store POS with other systems, such as a website or employee time clock.
Vend is known for its wide range of payment options and its user-friendly checkout process. It is designed specifically for retailers, with a focus on in-store functions, and allows integration with third-party apps for additional features.
The system allows you to use your own merchant account and set up custom payment types such as layaway, store credit, and on-account sales. The checkout screen is easy to use, particularly for processing returns and exchanges.
Instead of trying to offer a range of features for every business, Vend concentrates on providing excellent in-store retail capabilities and allows third-party apps to handle other functions.
Features:
Checkout: Add shortcuts to the POS system for retail,add notes or line items to customer and transaction receipts, archive transactions for later completion, and handle gift cards.
Inventory tracking: Vend's inventory management tools allow retailers to manage and track their products across multiple locations, create and organize a centralized catalog, and edit products in large quantities. It also offers the ability to generate and automate purchase orders, create product variants and combinations, and print labels and barcodes. The system includes a unique mobile app that allows users to scan barcodes to access product information, perform inventory counts, update stock levels, and add new products to the catalog.
Payment processing: Vend's payment processing features include the ability to integrate with various merchant accounts, such as CardConnect, Elavon, Klarna, PayPal, Chase, Worldpay, and Square. This allows businesses to choose the option with the lowest rates. The system also offers a range of payment options, including store credit and layaway payments. It should be noted that the monthly rate for Vend will increase if a business does not use Lightspeed Payments.
Employee management: Vend's employee management features include the ability to set custom user logins and permissions for employees, track employee performance by requiring passwords for each sale, and generate reports for registers and shifts. Vend also allows you to set individual and team sales goals and track average basket sizes.
Pros:
Excellent loyalty program
Features a large inventory
User-friendly
Cons:
There is no built-in eCommerce
It can quickly become expensive
Revel Systems – Best in Reporting Features
Revel Systems is a comprehensive POS system for retail designed to meet the needs of businesses of all sizes. Still, it is particularly well-suited for medium to large retail and restaurant establishments.
The system offers a wide range of advanced features that can help businesses manage their inventory, track sales, and gain insights into their performance. These features are complemented by excellent customer support, which is available to help companies to get the most out of their Revel Systems POS system.
Whether you are a small business owner or a large restaurant chain, Revel Systems has the tools and resources you need to succeed.
Features:
Real-time inventory: It allows users to easily add and manage inventory by inputting item and price information and also allows for the import of inventory using a template. The system is able to track inventory on the ingredient level and provides reports on food costs at the ingredient level as well. It also alerts users when inventory levels are low and allows easy reordering.
In addition, Revel is able to manage retail fuel sales with its wet stock management feature.
Customer management: With Revel Systems, retailers and restaurants can easily track customer purchases and personal information, including their name, location, contact number, and email. This information can be used for targeted marketing campaigns or to recommend related products. The system also allows businesses to customize table reservations by adding customer preferences and sending text notifications when a table is ready.
Order management: Revel allows you to track the arrival and addition of stock items to your inventory by creating and managing purchase orders and associating them with vendors. It also allows you to note partial orders when vendors only send a portion of the requested stock and finalize orders when they are complete.
Employee management: Revel Systems allows you to track and monitor employee activity through individual login IDs or swipe cards. You can use employee reports to see the number of mistakes, reductions, sales volume, and efficiency for each employee, and you can customize access parameters based on employee responsibilities. The system also has scheduling capabilities for employee time.
Delivery management: Revel Systems' point-of-sale system allows you to track orders and delivery in real-time and optimize delivery routes. The system can store customer information and order history and has a delivery management feature with driver tracking and integration with Google Maps, which is particularly useful for pizza delivery services.
Pros:
Comprehensive reporting capabilities
Strong enough for multi-location businesses.
API accessibility
Packages designed specifically for your company
Cons:
Expensive for small businesses
Long-term subscription obligations
At least two registers must be used
Conclusion
In conclusion, a retail POS system is a vital tool for any retail business, providing a central hub for processing sales, managing employees and inventory, and gathering data to inform critical business decisions. Many options are available, each with its unique features and pricing plans. Our top pick for the top POS systems for retail in 2023 is Square for Retail due to its free starter plan, easy setup of a basic online store, and ability to scale with your business as it grows. However, it's important to carefully consider all of your options and choose the system that best fits the needs of your business.