Are you looking for the top-rated restaurant POS systems for 2022/2023? Here in this article, we reviewed the best restaurant POS systems. Read on to find out which one suits you best.
A Restaurant POS system is a valuable tool that helps restaurant owners streamline and simplify the business management process. It does this by tracking key metrics such as sales, cash flow, and food inventory, which can be used to make informed decisions about how to run the restaurant more effectively.
While it is not designed to replace waitstaff or other staff members, a POS system can help to streamline and automate certain tasks, such as handling large numbers of orders or managing a fast-dwindling inventory.
In addition to these basic features, many Restaurant POS systems offer a range of additional functionality to help restaurant owners better manage their operations. For example, some systems include a customizable menu that allows owners to easily add or remove items as needed and track customer visits to multiple locations.
Other features might consist of customer management tools, staff performance tracking, and reports that provide insights into the overall health and performance of the business. By using these tools, restaurant owners can gain a clearer understanding of their operations and make informed decisions about how to grow and improve their businesses.
How We Made the List Of Top-Rated Restaurant POS Systems?
To find the best restaurant POS system, we consider various factors, such as pricing, support, flexibility, user-friendliness, affordability, and any standout features that might be particularly useful for restaurants of all sizes.
We also look for systems built with easy-to-use hardware and software that work together seamlessly to support all aspects of running a restaurant.
To be included on our list of the best restaurant POS systems, vendors must offer more than just the ability to accept payments – they must provide a comprehensive set of tools and features that help restaurant owners manage every aspect of their business.
Affordability
There are several possibilities for restaurant POS pricing. Almost every plan you'll come across will charge you a monthly price to use the program. Certain functions are regarded as add-ons and may incur additional charges.
Aside from software, many POS systems include hardware that they propose. Hardware can be expensive, but payment processing rates are sometimes greater if you are using your own system.
Flexibility
The finest pos systems have the ability to expand with you as your business grows. You don't want to be locked into a contract that doesn't work for you, whether it's more terminals or expanded functionality. Many systems do not require lengthy software contracts, making it simpler to renew or change if needed.
Key Features
It may go without saying, but ensure that the POS system you choose has all of the capabilities you require. POS software may help with inventory, personnel, and menu to make things run more smoothly.
Additionally, a lot of these systems include e-commerce facilities that allow customers to place orders online for pickup or delivery. Platforms like Square even will enable you to make a website. If you have a VoIP caller base, you can integrate it for marketing purposes.
User-Friendliness
If you've purchased software and your staff is still wondering, what's a POS system?" odds are they won't be able to use it. If your staff can't figure it out, even the finest software needs to be better to justify its digital weight. Numerous pos systems have demonstrations for their premium services, so you can try them before buying.
Company's reputation
We have carefully analyzed the company's reputation to ensure your safety and a positive experience. We prioritize companies that have not participated in fraud or dishonesty.
We also checked user reviews to confirm the company's reliability. We picked a brand over others if the majority of people liked it across many platforms.
Customer support
If your pos software isn't operating properly, it might close your firm. When such scenarios develop, it is critical that customer service is only a phone call away so that you do not lose customers or patience.
We construct our study scores by evaluating every restaurant POS against these measures and a variety of other aspects to assist us in determining how the system performs overall. The five-star ratings enable us to arrange the systems based on their overall capability and decide which POSs are most suited to different sorts of companies.
Top Rated Restaurant POS Systems for 2022/2023, Reviews
Square For Restaurants – best pos system overall.
Toast – best for non-contact ordering.
Clover – best for quick-service reservations.
TouchBistro – best for small restaurants
LightSpeed – best for cafes
Revel – best for restaurants with multiple locations
Square for Restaurants – Best Pos System Overall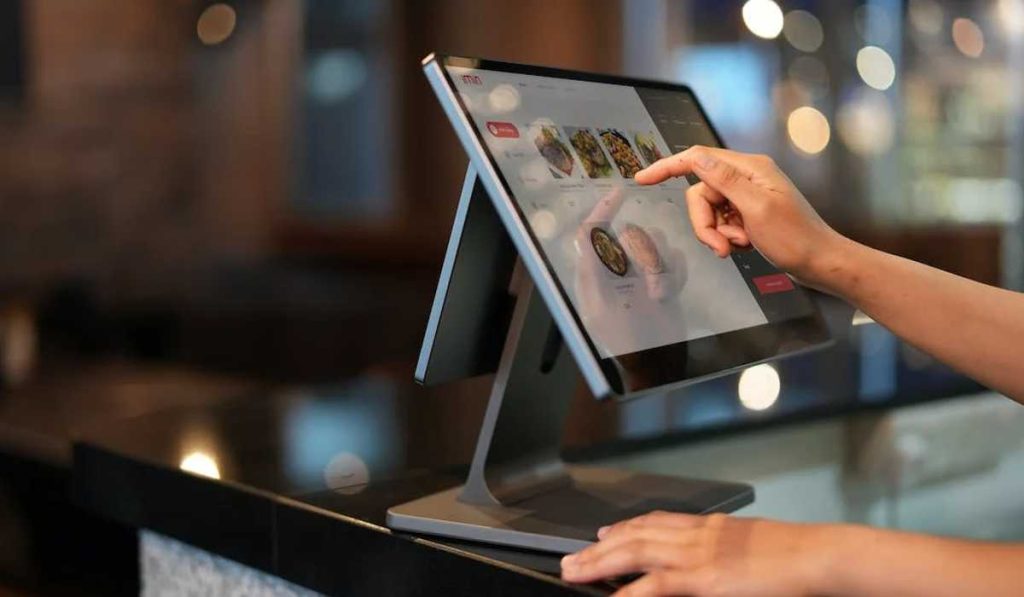 Square for Restaurants is widely recognized as the best POS system overall, with a standout feature being the ability to create your online site for delivery and curbside pickup orders. This service is included in the company's relatively comprehensive free plan, which is sufficient for many young restaurants for an extended period of time.
However, 24/7 support is not available with the free plan but is included in all other plans. When it's time to upgrade, Square offers flexible pricing options without the need for long-term contracts or expensive one-time investments. It's worth noting that Square's inventory management tools could be more robust, and payroll is an additional cost per employee.
Pros
Provides a free plan.
Premium subscriptions come with a 30-day free trial.
There are no lengthy contracts needed.
A free e-commerce website is included.
Cons
There are no personnel management tools.
The free version does not provide 24/7 assistance.
Features:
Square POS for restaurants offers a range of features that are particularly useful for restaurant owners, including:
Excellent table management capabilities: Square's POS system provides tools to help you manage your tables and track customer orders.
Layout customization and item grouping: You can create custom layouts and group menu items in a way that makes sense for your restaurant.
Bulk menu add-ons: Square's POS system makes it easy to add multiple menu items simultaneously, saving you time and effort.
Menu customization: You can easily create and customize your restaurant's menu to meet your customers' needs.
Effective kitchen management: Square's POS system includes features to help you track prep times, customer ticket timers, and more, giving you greater control over your kitchen operations.
Third-party integrations: Square's POS system integrates with a range of third-party tools for pickup and delivery, employee time tracking, and customer reservations, making it easier to manage these aspects of your business.
Ordering using QR code: Square's POS system allows customers to order using a self-serve QR code, making it easier for them to place orders and pay.
Flexible payments: Square's POS system supports all major credit cards, as well as Apple and Google Pay, giving you and your customers a range of payment options.
Build loyalty programs: Square's POS system allows you to create loyalty programs, exclusive offers, and custom profiles for your regular customers, helping you build a strong relationship with them.
Mobile compatibility: Square's mobile-compatible card reader enables you to take payments anywhere, at any time, giving you greater flexibility in running your business.
Toast – Best for Non-Contact Ordering
Toast's restaurant management system includes a free plan with a few restaurant-specific features to help you get started. But to build an online presence, you'll need to upgrade to the Essentials plan at $165 per month.
Either way, you'll likely need to invest in Toast's proprietary hardware to run the system, which can be a significant cost, especially for larger full-service restaurants.
However, Toast's POS system offers features such as table service planning to optimize service and turnover rate, as well as email marketing and customer loyalty programs for a nominal additional fee. The interface allows restaurant owners to view sales across all locations and track which tactics are working and which areas could be improved. You can also use the best VoIP app to expedite communications with customers.
Pros
Online orders with no commission
24/7 customer service
Free service tier
Cons
Reservation possibilities are limited.
Marketing tools are costly.
Features:
Toast's POS system contains several features, such as the ability for servers to collect tableside orders from clients and send them to kitchen and bar employees. Servers may also accept payments using an EMV card reader and Samsung Pay.
The system also has a cost management function that allows managers to quickly investigate labor and dish prices and fixed overhead expenses, providing a clear picture of overall income and allowing them to see where their restaurant is generating and losing money.
Other important Toast POS system features include strong analytics and reporting, flat-rate deliveries, curbside pickup or contactless delivery, online ordering compatibility, and real-time menu changes.
Toast also provides a virtual POS system called Toast Now, which includes online ordering, takeaway, and contactless delivery and is absolutely free for the first three months.
Clover – Best for Quick-Service Reservations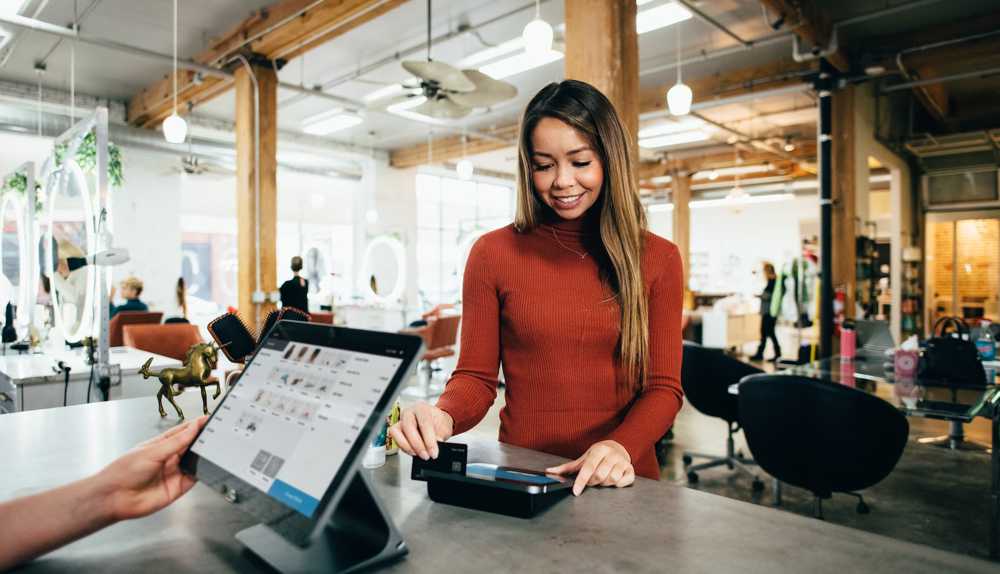 Clover is a point-of-sale system designed specifically for quick-service restaurants. Shift scheduling, table management, internet ordering, and gift voucher processing are among the capabilities available. Clover also includes an app store where restaurants may connect third-party products.
Quick-service Restaurants require simple ordering, something that color-coded menu items provide. Guests can pay with wireless mobile, gift cards, cheques, and credit and debit cards as their order is being processed in the kitchen.
Pros:
There are both full and quick-service software options available.
Several merchant account providers sell it.
There are several Clover hardware configurations to pick from.
Cons
Lengthy contracts and early termination costs if you buy from Clover.com
Hardware may be costly.
Not all Clover vendors are trustworthy.
Features:
Clover's POS software is intended to be simple to use and install. You can choose your desired hardware and software plan, and once it gets there, you can get started serving customers in just a few minutes by plugging in your POS system.
Some other notable features of Clover's POS software include versatile floor plans, complicated check dividing, great hardware for tableside orders, a wide range of apps included, the Clover Marketplace, an online ordering feature, and a fully customizable virtual terminal.
TouchBistro – Best for Small Restaurants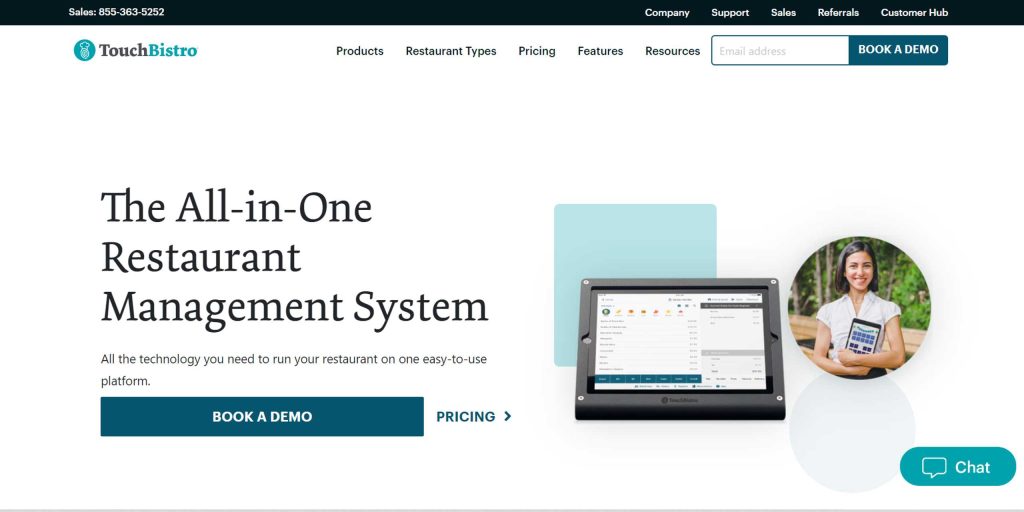 TouchBistro makes it simple for small companies to construct a restaurant POS system with mix-and-match pricing and cost-effective hardware.
You may forego TouchBistro's devices in favor of iPads to save money while still creating extensive menus for your visitors.
Add-ons get more expensive as your business expands, and there is no free trial to evaluate if the service is right for you. TouchBistro is complimented with vast integration capabilities for what it lacks.
Pros
A fantastic in-house reservation system
It is compatible with Square.
POS app installed locally
Compatible with third-party delivery applications
Cons
Add-ons can be costly.
There are no online payments.
Features:
TouchBistro's POS software provides features like floor plans, seat and menu management, supply calculations, and personnel scheduling, even at the most basic level. It also interfaces with other applications to aid with accounting and stock management. However, payment processing is usually handled by a third party, which could also add additional expenses. TouchBistro also allows you to create a website for reservation administration and customer acquisition.
However, this service is not free. Online orders and delivery are also available but will cost you a minimum of $50 each month. About 50 different reports are included in the program to assist restaurant managers in improving the client experience, streamlining operations, and gathering staff feedback.
LightSpeed – Best for Cafes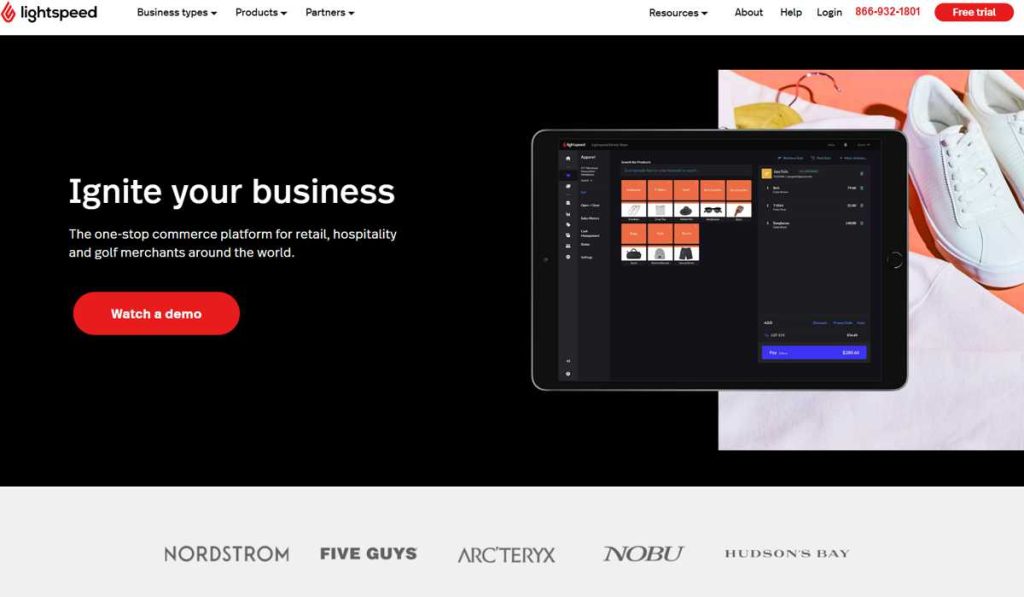 Lightspeed is a cloud-based point-of-sale system designed specifically for cafés. Seat management, internet orders, gift vouchers, and loyalty programs are among the features available. Lightspeed also provides an app store through which restaurant managers could combine accounting, e-commerce, human resources, and marketing applications.
Cafes must act rapidly, and Lightspeed's fast checkout feature assists them in doing so. Customers can use contactless mobile payments, Google Pay, gift cards to pay, and Apple Pay.
Pros
Works nicely with other software.
Unlimited, round-the-clock assistance.
Free one-on-one training.
Integrated management of customer relationships hub.
Cons
Inadequate reporting tools.
Some extra functions are expensive add-ons.
Features:
Lightspeed Restaurant POS is a comprehensive point-of-sale system that includes various features to help restaurant owners streamline their operations and improve the customer experience. Some of these features include:
Contactless order and payment: allowing consumers to make orders and pay without physically touching a menu or payment terminal.
QR code ordering option: Lightspeed's POS system includes a QR code ordering feature that allows customers to scan a code and place an order from their device.
Smart tipping with the possibility of distributing among employees: smart tipping function allows customers to effortlessly leave a tip and decide how it should be allocated among workers.
Simple and customizable table mapping: table mapping feature allows you to arrange tables easily and track customer orders. The layout is simple and easy to adjust as needed.
24/7 customer support: Lightspeed's POS system includes 24/7 customer support to help you resolve any issues or questions.
Integration with several delivery apps: Lightspeed's POS system interacts directly with various delivery apps, like UberEats and DoorDash, making delivery orders easier to manage.
Revel – Best for Restaurants with Multiple Locations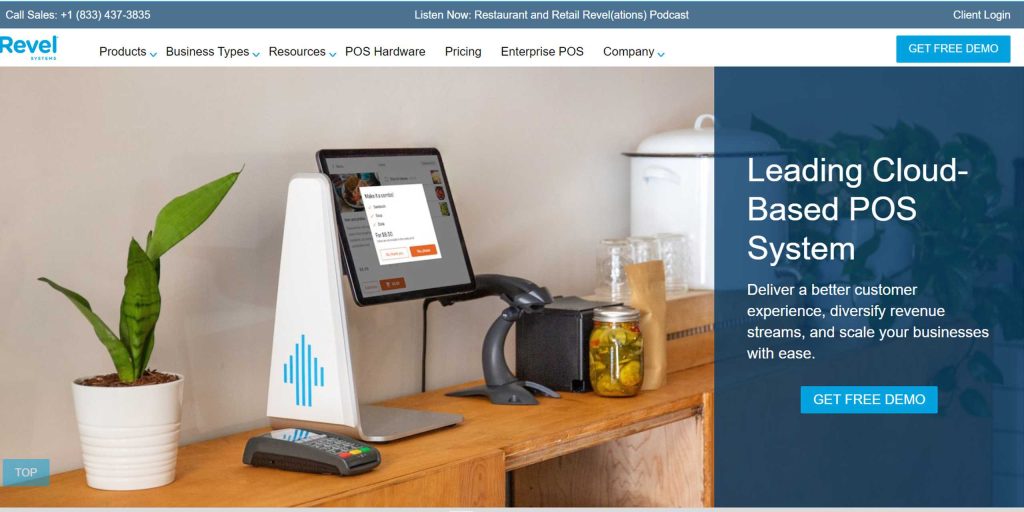 Revel's ability to manage many restaurants from one dashboard will please restaurant owners with multiple locations.
Its open API framework allows for extensive customization by anybody with the necessary skills. Plans are pricey, but you'll be able to run the program on iPad devices to save money. The pricing possibilities can be found in a three-year contract if you are confident.
Pros
Highly adjustable
Cutting-edge restaurant characteristics
Complete offline functionality
Flat-rate processing
Cons
Many functions are not included.
For the best price, a long-term contract is required.
Features:
Listed below are some of the finest features of Revel:
Always-on mode: In the event of an internet outage, Revel's POS system remains operational, helping you keep your business running smoothly.
Ordering mechanism based on a conversation: allowing customers to place orders using natural language.
Strong inventory management: Revel's POS system includes robust inventory management tools that allow you to track and manage your inventory more efficiently.
A simple discounting method makes it easy to apply discounts to orders as needed.
Option for self-service kiosk: Revel's POS system includes a chance for a self-service kiosk, allowing customers to place orders and pay independently.
Integrated internet ordering system: Revel's POS system includes an integrated internet ordering system that allows you to manage online orders from a single screen.
Open API for developers: Revel's POS system includes an open API that allows developers to build custom integrations and extensions as needed.
Conclusion
Restaurant POS systems are essential tools for managing clients, payments, and other aspects of a restaurant's operations. Many of these systems also offer features that allow restaurants to expand their reach to internet sales, which can help increase revenue and build a more extensive customer base. In addition, these systems can help you identify areas of your restaurant that may need improvement, allowing you to make changes and optimize your operations.
According to our research, the top-rated restaurant POS systems for 2022/2023 include Square, which offers a wide range of features and is suitable for businesses of all sizes, with multiple pricing options to choose from. If you're not satisfied with Square, there are several other alternatives that you may find more appealing.